Team:BU Wellesley Software/Notebook/DougNotebook

Doug's Notebook
This is my notebook. This is my voice on TV.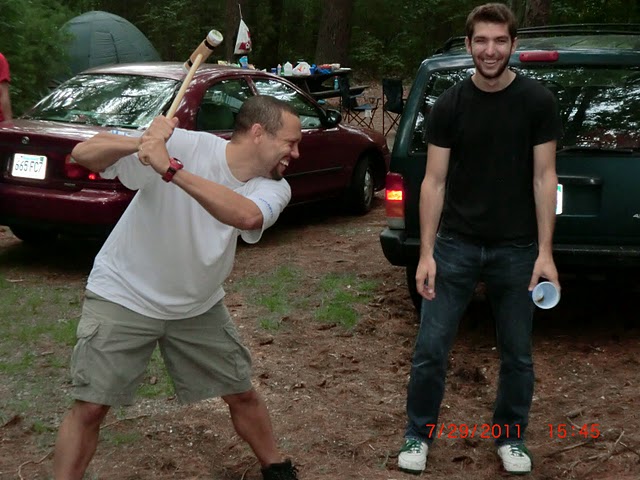 The joys of being an advisor!
Anyway, welcome to my single notebook entry. Here we go. Team #3. Lucky #3. Numero tres. Third times the charm. Etc. This is my third time running an iGEM team in case you could not guess. My first two teams were at UC Berkeley. I was a post doc then. I had more time then. I had more energy then. I had more hair then. I had more jokes then. This year, now that I am a big time professor at Boston University, I figured I should run a team here. How hard could it be? Heck, it is going to be cheap since it is at MIT (cue humorous "Wa Wa" sound as I learn about regional jamboree format). I can handle a team of 10 students at BU. No problem I said. Needless to say this was another massive undertaking. I couldn't have done it without my other instructors (Orit Shaer, Traci Haddock, Swapnil Bhatia, Megan Strait, and Suma Jaini). THANKS A TON! Plus I have to say that again we had a TERRIFIC group of students. They never cease to amaze me. I am very proud of what they have accomplished and I can't help but smile when I think of how far they have come. Now that iGEM is winding down, I can say without hesitation that it was totally worth it and I would do it again (doh!). So, why I am excited about our team?!?!?!
1. Our team is joint with Wellesley College. A year or so ago, I stumbled across this http://www.youtube.com/watch?v=pf-zMFdlqQ4 (YouTube video). I thought it was really cool. I figured if we could get a great HCI project combined with the Clotho project it could address many of the concerns folks had about the learning curve associated with software tools for synthetic biology. I don't think we have this completely settled yet by any means but at least this project was able to get that collaboration started and we have established a way to interact. Orit and her team have been super and I couldn't have asked for a better set of teammates. Plus Wellesley is still my favorite college campus of all time (sorry University of Michigan and UC Berkeley).
2. We really revamped the Clotho core and main dashboard. Clotho has a completely new look and feel in 2011. Not only that, but we have cleaned up much of the internal code and migrated the core to a new repository. Thanks to Jenhan Tao, Cesar Rodriguez, and J.Christopher Anderson for their efforts. Jenhan worked wonders for us and I can't thank him enough for all his hard work. He continues to work on Clotho now at UC Berkeley and this is going to be a great bridge between the East and West coasts. Ok, now that you have read this Jenhan, get back to work:)
3. This project has a COMPLETE WET LAB COMPONENT. This was a great way to bootstrap my new lab at BU as well as get real wetlab experimentalists to start using Clotho. Not only did this show that my lab could assemble new BioBrick parts (a big step for a lab PI with a EE PhD) but we also were able to get our entire software flow (specification, design, and assembly) fully working. Great work team! A big shout out to Traci Haddock for herding all the cats and putting her hard earned PhD to good use teaching basic cloning protocols:) I owe you one!
4.Cool application. By partnering with Suma Jaini and the Galagan Lab here at BU, we were able to find a great application for our research by studying Tuberculosis. This helps give our lab a sense of purpose and a way we can really tackle some cool challenges. I can't wait to see what comes out of this! This is just the beginning.
5.Recombinase based circuit design computational tools. Craig and Swapnil really came up with some great stuff. This is cool for so many Comp Sci. reasons. We now have a completely new set of problems to work on with real nice formalisms. Thanks to Josh Gilmore for all the support.
6.Overall great time. We had a blast this summer. Loved the camping trip, visits to Wellesley, various socials, general chats, etc. This is what makes being a professor really worth it. Thanks to everyone that worked on the project! Can't wait for the actual jamborees!!!